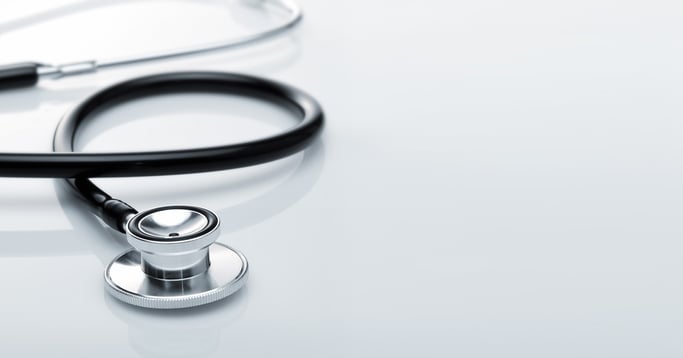 Would you eat your dinner without washing your hands after using the restroom? My guess is probably NOT. We accept the important role hand hygiene plays not only in our personal lives but in the lives of our patients. In fact, next time you visit a family member or friend in the hospital count how many hand hygiene stations are present. Hand hygiene has been the focus of infection prevention education for quite some time now. With campaigns like "Clean Hands Save Lives" we are seeing more and more compliance with hand hygiene programs. BUT, have you ever considered stethoscope hygiene compliance within your facility?
Microbiological data have shown that stethoscope contamination after a single exam is comparable to that of a physician's dominant hand. To put that into perspective, total bacterial counts on the hands of medical personnel have ranged from 3.9 x 104 to 4.6 x 106. That's up to 4,600,000 pathogens that could contaminate a single stethoscope! Common pathogens cultured from stethoscopes include Staphylococcus aureus, Pseudomonas aeruginosa, Clostridium difficile, and VRE. Did you know that for S. aureus an infectious dose is only 100,000 organisms? Even scarier, the microbe infectious dose is unknown for P. aeruginosa, C. difficile, and VRE highlighting the importance of preventative measures.
A new study in the American Journal of Infection Control looked at the impact that education, reminder flyers, and the provision of cleaning supplies had on stethoscope hygiene. At the end of the program, the results indicated that there was NO change in stethoscope disinfection compliance and hygiene remained at ZERO. Are these results surprising? Not really when you consider all the research that has looked at cleaning and disinfection protocol compliance. Take the study by Havill and Boyce for example on "Cleanliness of portable medical equipment disinfected by nursing staff". In this study ATP (adenosine triphosphate bioluminescence) and aerobic cultures were used to assess the cleanliness of portable medical equipment disinfected by nurses between each patients use. It was discovered that the equipment was not being disinfected as per protocol and that education and feedback are an essential element to improving disinfection. There is a plethora of research that supports this same conclusion that education, monitoring, and feedback play an imperative role in improving disinfection compliance. Two more powerful examples come from Drs. Alfa and Boyce. In a study by Alfa et al, housekeeping staff were provided an effective Accelerated Hydrogen Peroxide® (AHP®) based disinfectant which was combined with proper training, education, compliance monitoring and feedback. The study resulted in a 20% reduction of HAIs including MRSA, VRE, and C. difficile. In a similar study by Boyce et al, the use of AHP®, education, and compliance monitoring resulted in a 23% reduction of HAIs! While this research has been primarily targeted towards the decontamination of environmental surfaces, it can certainly be extrapolated to patient care equipment such as stethoscopes.
It is evident that this study highlights not only the risk stethoscope hygiene incompliance has in healthcare facilities, but it reveals an overlooked infection control issue and how rarely stethoscope hygiene is done. Providing standard education may not have been the answer in increasing disinfection compliance in this particular study, but perhaps a more holistic approach is required that includes education, compliance monitoring and providing feedback to staff. Because how can anyone improve if they aren't being properly trained or given guidance on ways to improve? Get started on your education, training, compliance monitoring and feedback program today using our Stethoscope Disinfection Protocol! And for more resources on the effects of compliance monitoring download these Disinfectant Digests!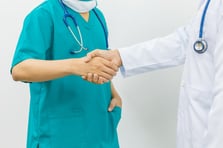 Insightfully yours,
Olivia Lattimore