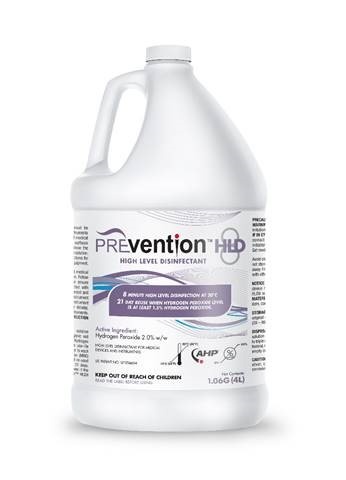 Don't you hate the noxious fumes of gluts? Perhaps you just purchased an inexpensive high level disinfectant, only to realize that now you need to install a fume hood to comply with OSHA regulations. Or maybe waiting a whole 20 minutes for your instruments to be disinfected drives you crazy because now you need to purchase multiple instrument sets to account for your high turnover.
For some, the very term "high level disinfectant" might be alarming as you likely associate high level disinfectants as being toxic and an impediment on your productivity. But we have some exciting news to share! The same Accelerated Hydrogen Peroxide® (AHP®) technology that you know and love in your surface disinfectants is now available in a High Level Disinfectant (HLD) for your semi-critical instruments and devices!
Prevention™ HLD8 is a smart and innovative solution that is different from other chemistries such as the commonly used Glut (glutaraldehyde) or OPA (ortho-Phthalaldehyde). Prevention™ HLD8 is FDA registered and provides high level disinfection in only 8 minutes meaning you can reprocess your instruments faster. Once poured, Prevention™ HLD8 can be re-used for up to 21 days so your solution can go further improving staff productivity and saving you money. With Prevention™ HLD8 you no longer have to worry about dermatitis or respiratory distress as Prevention™ HLD8 is formulated using ingredients that are non-toxic and biodegradable. In fact, you can forget about fume hoods, special ventilation and respiratory PPE. Best of all, unlike other high level disinfectants, Prevention™ HLD8 can be poured safely down the drain. Why compromise the safety of patients and staff if you don't have to?
We are thrilled to offer our new Prevention™ HLD8 High Level Disinfectant to the US market as part of the AHP® portfolio which now supports the disinfection of both surfaces and devices in the Alternative Care and Animal Health markets. With Prevention™ HLD8 you can get a complete AHP® portfolio solution for all your disinfection needs. And for our Canadian friends, don't worry! You can still access our high level disinfectant and chemical sterilant with Preempt HLD5 and Preempt CS20.
For more information read our Press Release
Insightfully yours,
Olivia Lattimore