The battle continues......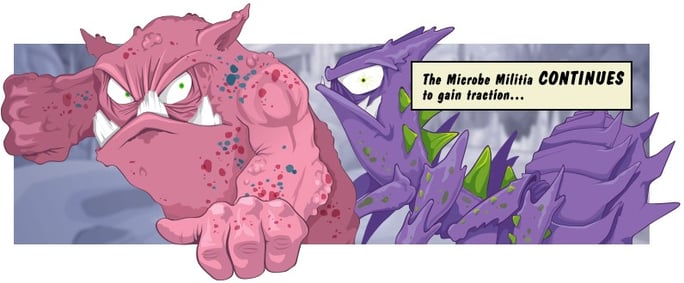 It's been one week since the Infection Prevention Army exposed the disinfection myths spread by the Microbe Milita. Have you been able to dispel any the myths in your facility? Or perhaps you have uncovered some myths of your own. While the Infection Prevention army was able to expose these falsehoods, the Microbe Militia is now more aggressive than ever preying on hands, surfaces, and devices that are vulnerable to common cleaning and disinfection mistakes.
Common Mistakes Pertaining to Hands
Not using enough hand soap or hand sanitizer
We typically believe that when it comes to hand sanitizers and soap, one size fits all, which is evident by new automated hand hygiene stations. However, we need to consider the size of our hands when it comes to using hand sanitizers and hand soap to ensure that adequate coverage, and therefore efficacy of the product can be met. The volume of hand soap or hand sanitizer should be large enough to cover the whole surface area of both hands.




Not washing hands for long enough or frequently enough t

o reduce the potential for bacterial transfer, we need to wash our hands for longer than 15 seconds (try singing Happy Birthday in your head) and should practice hand hygiene before initial contact with a patient or items in their environment, before putting on PPE when performing an invasive procedure, before preparing, handling, or serving food or medications to a patient, after care involving contact with blood or body fluids, immediately after removing PPE and before moving to another activity, after contact with a patient or items in their immediate surroundings upon leaving the room, and finally, whenever in doubt.
Not using moisturizer after practicing hand hygiene.
Good skin condition is an important element in ensuring good hand hygiene practice. Frequently washing hands can lead to drying of the skin where pathogens can harbour. Reconditioning creams help maintain healthy skin and avoid dryness.
Common Mistakes Pertaining to Surfaces
Failing to achieve designated contact time
In other words, the surface being disinfected does not stay wet with the right concentration of in-use solution disinfectant for the full length of time required for efficacy. If you wet a surface down via spray bottle and immediately wipe the surface dry, it won't be effective. In addition, spray bottles increase the risk of a pathogen getting blasted onto another surface. It's better to spray the disinfectant onto the cloth to wet it down, then use physical friction to apply the product to the surface. This helps pick up any soil, debris and microbes you cannot see and finally, provides a more even distribution of the disinfectant solution onto the surface than random splatters from the spray bottle. When the disinfectant air dries you have a better chance of achieving the designated contact time.
Topping off diluted disinfectant bottles, rather than starting each time with a cleaned bottle and fresh batch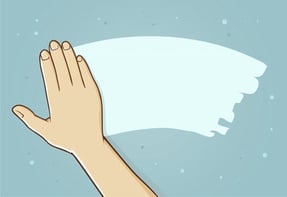 Making this mistake means you've just mixed old disinfectant with new. This can lead to an over-diluted or inactivated mixture. In other words, it won't work as well and there's

science

to prove it!
Eyeballing dilutions
Eyeballing the required dilution of disinfectants is often a result of not having access to a dilution system or not having dilution systems in a convenient location. When disinfectants are not accurately diluted you can either get solutions that are not strong enough which will not provide the desired germicidal efficacy, or you get solutions that are too strong which can put the safety of staff at risk. Furthermore, if you do use a dilution system, it's essential to ensure that dilution systems are maintained to ensure they can properly dilute disinfectant solutions.
Cross Contamination
Did you know that some disinfectants or the cleaning substrates used to clean can transfer pathogens from surface to surface during the cleaning and disinfection process? When disinfecting it's important to ensure that we use a clean cloth (no double dipping!), or fresh pre-saturated wipe for each surface being disinfected to prevent picking up pathogens from one surface and depositing them onto another surface.
Common Mistakes Pertaining to Devices
Not knowing the shelf-life of the disinfectant being used
In addition to knowing the shelf-life of the disinfectant, it's important to know how long the shelf life of the re-use period is to ensure there is enough active in the solution to continue to work properly. The in-use shelf-life for some disinfectants may only be single use, or as long as 30 days. The concentration of active ingredient within the re-use solution should be validated using chemical indicator strips. It's also important to read the product label as it pertains to the shelf life of the solution once the bottle has been opened. The shelf life of some disinfectants is dramatically reduced once the bottle has been opened.
Not giving or receiving product-specific training to team members
Just because you learned how to clean from a family member at home doesn't mean you know how to properly clean and disinfect in a device reprocessing setting. And, just because you know how to use one disinfectant does not mean you know how to use another one. Different disinfectants work different ways with various shelf lives, contact times, and safety precautions. Disinfectant manufacturers or sales reps can provide training materials or lead staff training sessions. Just ask. It may also be beneficial for both staff and patients to implement a compliance monitoring system to ensure that important processes and policies are being followed and disinfectants are being properly used.
As an essential member of the Infection Prevention army, my hope is that you will be extra diligent in ensuring that these common blunders are avoided in your facility so that together we can defeat the Microbe Militia.
Insightfully yours,
Olivia