I LOVE to shop, in fact many refer to me as a shopaholic. The best feeling is scoring a sweet sale, especially a BOGO (buy one, get one free) deal, because more is better right? However, the one thing that sobers my shopping high is the wise saying from my mother "it's not a deal if you don't need it".
You might be wondering what the link between shopping and disinfection is. Well, conducting disinfectant efficacy testing is much like taking a shopping trip to your favourite department store. There are endless pathogens to choose from, some designer which are very costly and others that are staples and necessary to have on your product label. I am sure we have all treated ourselves to a shopping spree where we have bought things we don't need. And guess what…disinfectant manufacturers do to! In an effort to look more effective many disinfectant manufactures will list an infinite number of pathogens on their product label. The catch? These claims are either irrelevant or are different strains of the same pathogen. It's like buying 100 different camisoles when you only really need a few (black, white, etc).
So how does one identify if their disinfectant is playing the claims game or instead focuses on the relevant pathogens of concern? There are different classes of pathogens, each with surrogate organisms that are reflective of the gold standard or more difficult to kill pathogen in that class such as:

Vegetative bacteria: Pseudomonas aeruginosa (gram negative) and Staphylococcus aureus (gram positive)
Fungi: Trichophyton mentagrophytes
Viruses: Poliovirus or Adenovirus (non-enveloped)
Mycobacteria: Mycobacterium bovis or Mycobacterium terrae
Bacterial Spores: Bacillus subtilis and Clostridium sporogenes

When cleaning and disinfecting surfaces, it is important to consider what pathogens are relevant to patients, clients, and the facility and focus your attention on a disinfectant formulation that provides a balance between effectiveness and minimal toxicity to increase user compliance.

So what if you're "shopping" for a particular pathogen but it's not listed on your disinfectant's label? Does that mean the disinfectant won't be effective? Not necessarily. The easiest thing to do is identify what kind of pathogen we are dealing with and where it sits on the hierarchy of susceptibility.


Is the pathogen a virus, bacteria, fungi, mycobacteria, or bacterial spore? Once you've identified what kind of pathogen we are dealing with, using the Hierarchy of Susceptibility, the next step is to identify where the pathogen sits on the pyramid. Using the Gold Standard pathogens, one can see what pathogens should be included on the product label to determine if efficacy can be expected. For example, if your facility is concerned with Influenza (since we are getting into Cold and Flu season) and it's not listed on your product label, if you do a quick Google search you will see that Influenza is an enveloped virus which sits at the bottom of the pyramid. This tells you that Influenza is easy to kill via chemical disinfection. Next, looking at your disinfectant product label, if your disinfectant has efficacy claims against the gold standard pathogens for viruses (Poliovirus or Adenovirus) efficacy against Influenza can be expected, especially since the gold standard pathogens for viruses are non-enveloped which are much more difficult to kill. So if your disinfectant can kill the more difficult to kill germs efficacy can be expected against the easier to kill germs.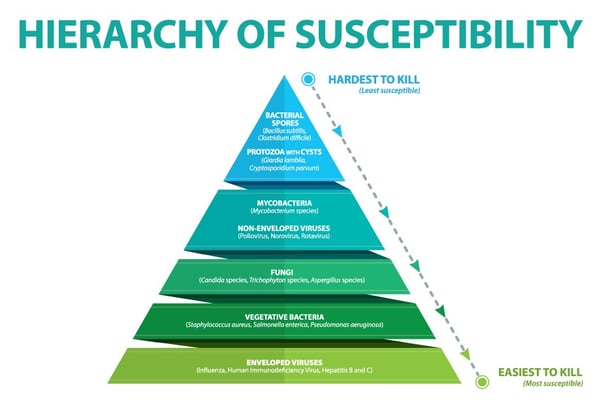 So where does AHP® fit into all of this? As much as I love to shop, we don't believe in adding claims to your product label for the sake of adding claims. Instead we aim to include the most relevant claims across the susceptibility pyramid. All AHP® based disinfectants contain efficacy against a broad spectrum of pathogens including enveloped viruses, vegetative bacteria, fungi, non-enveloped viruses, mycobacteria (RTU and Wipes), and there are even AHP® formulations with claims against bacterial spores. AHP® provides fast and consistent, broad-spectrum efficacy protecting your facility against pathogens you are most concerned with, without compromising safety to the user or environment. Download our efficacy flow chart to ensure you disinfectant is effective against the pathogens your facility is currently battling.
Insightfully yours,
Olivia Lattimore